We started the project with a survey to get an overview about all the messengers out there, the reasons why people use specific ones and all their features. 231 people participated and 
provided interesting and helpful data for us. Here are some examples:
Sarah is a high school student and very popular in her school. Using her smartphone is a daily routine for her and she has it always with her.

Tayo is studying 7th semester game design and has a huge circle of friends and acquaintances. He has a lot of interests and is working daily on his laptop with professional software.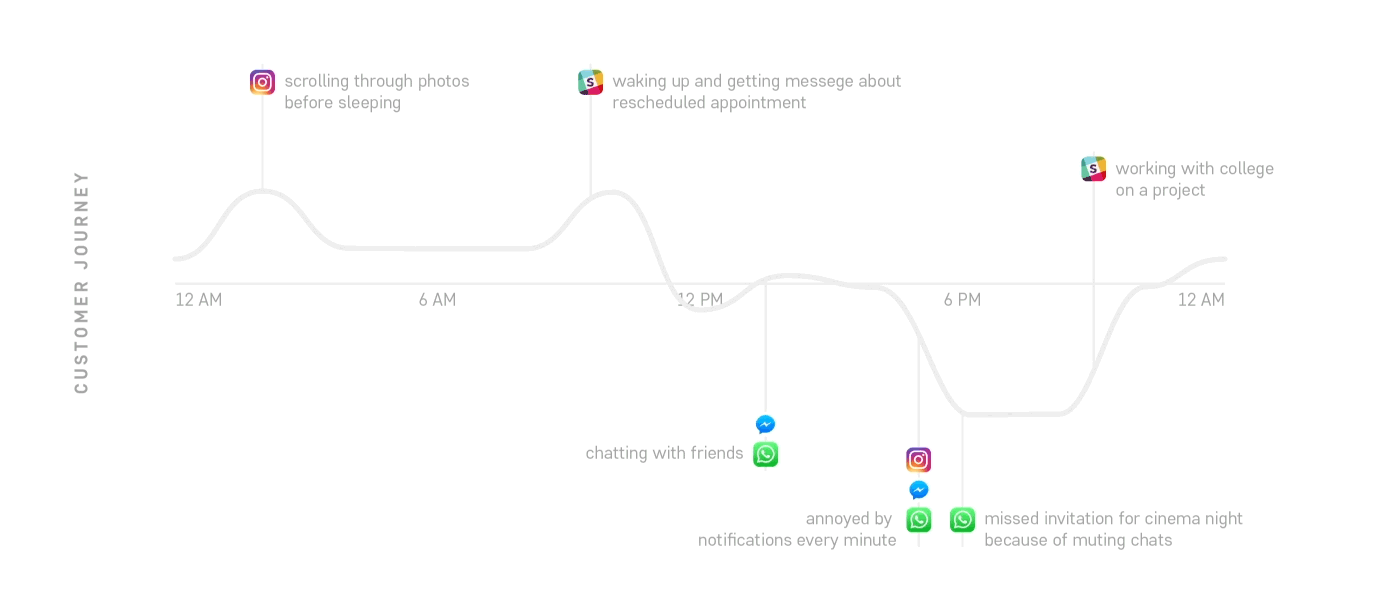 Steve is a construction manager and a typical family man with a few close friends and a lot of acquaintances at work. He knows the basics about his smartphone and his PC.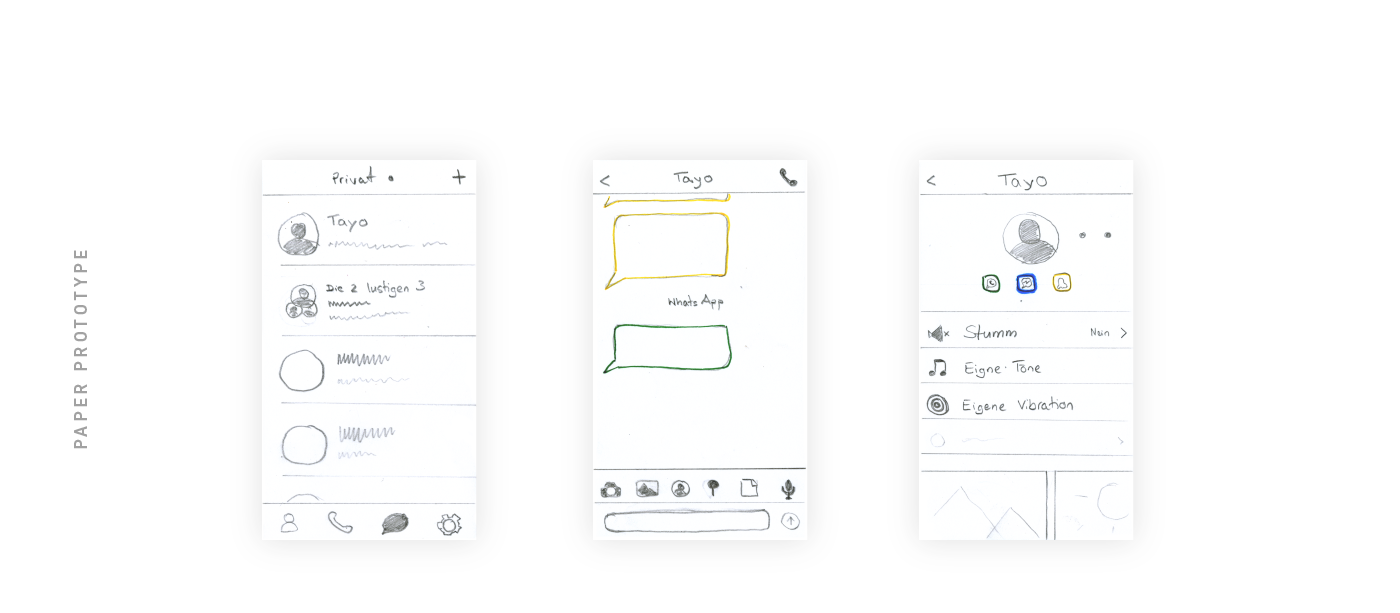 It's common to start a conversation in one messenger and pick it up in an other some time later. Having it all together in one puts the focus on the person you write with instead of the messenger you are in.
In the paper prototype we looked at how to solve the problem of the flood of daily messengers and made a concept for focusing on the user's needs.
Emails turn more and more into quick text messages. But mixing private and work can be a psychological burden for some people.
This function connects all messenger services into one so that the user doesn't lose the overview. In the settings, you can prioritize the messengers. New chat will be started with the favorite service both users have. And if your buddy picks up the conversation in another chat, you will see it with small changes like the chat bubble color. You can resend a message with long tapping it and then selecting another service.
Sometimes it's difficult to separate private and work. This function makes two sections in your messenger, one for private, one for work. It's possible to write a person in the work tab and in the private one as well. When you click on edit in a chat you also can move individual messages to the other section. When you bring structure in those chats, auto mute can be even more efficient.

You can activate the focus function manually through the focus tab in the middle. If that function is activated, you will receive no push notification and work concentrated on whatever you have to do. If someone is writing you a message in this time, they will get notified that you are in focus mode. But if it's a really important message, they can hit "urgent" and you will receive it even in focus mode. When you exit the focus mode, you will see a overview screen with a summary of everything you missed in between.
Through the settings, you can set conditions for the sections private and work, but also for specific chats. The conditions could be time and location, but also a special calendar, each for their own or in combination. With this, it's possible to mute your work chats at the weekend and/or when you are at home.
"FOCUS" is a project by Moritz Gruhl and Donatus Wolf developed within the course Human-Computer Interaction Design by Prof. Frank Heidmann at the FH Potsdam – University of Applied Sciences.